At The Mom Project, we have long believed that work should work for everyone. Over the years, we've helped countless moms and caregivers find opportunities that suit their lives. But the future is unfolding before our eyes, bringing to light an essential truth: Our work is only just beginning.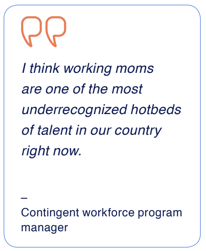 The past few years have shined a light on the vast possibilities that exist for the future of work. Smart companies recognize the impact moms can have on their business, understanding that mom skills translate to business skills. It's an exciting time in the world of work, making the connections we're building more important than ever.
What does this mean for contingent work? The possibilities are endless,
as evidenced in our recent report by Werklabs and the Staffing Industry Analysts (SIA). The bottom line: Contingent work delivers the flexibility parents need, and parents are incredible resources who can help companies see immense success.
There has never been a better time to tap into the power of your contingent workforce.
Good for moms is good for business
It's no secret that moms are looking for a more flexible, supportive, inclusive work environment with competitive compensation. Yet many companies lack tangible solutions to provide the flexibility that moms need to truly realize their potential.
💡 Did you know that 60% of the contingent workforce is composed of parents or caregivers?
As a leader, if you aren't thinking about this untapped and highly-qualified pool of talent, your competition most certainly is.
Companies who go above and beyond in accommodating the flexibility needs of their contingent workforce see the difference it makes for parents and caregivers — 28% of companies who prioritize flexibility and inclusion feel that parents and caregivers are a high-performing addition to their workforce, while only 5% of less-flexible companies have this view.
Why are parents valuable additions to the team? As Jeremiah Chan, head of patents, licensing and open source for Meta, puts it, it's because parents bring unique skills they've honed from caregiving.
"They have kind of an innate ability, almost like a superpower, to multitask in a very advanced manner. And when big, bad things happen, there's this level of calmness." - Jeremiah Chan
Why contingent work?
Moms are pursuing contingent work for various reasons. For some, it is flexibility—both in how they work and where. Others want to build their skills and experience to make themselves more marketable. Still others are looking for a foot in the door of a company they may eventually want to make a long-term commitment to based on their experience.


Barriers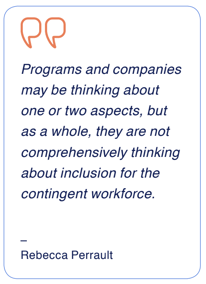 There are barriers that companies experience in accommodating what moms seek from employment and their employers, and in the contingent world, navigating this is relatively new. While not every barrier can be entirely removed, leaning into empathy and value towards what parents, specifically moms, require out of work is critical—and attainable.
While challenges are similar for both inclusive, flexible workplaces and those that are less flexible, the one area where companies that focus on DEI shine is with remote work. While 48% of less inclusive workspaces report difficulty in accommodating remote work, only 31% of DEI-focused companies found remote work to be an issue.
Other barriers include things such as differing needs when it comes to hours, lack of managerial support, and difficulty in attending meetings for parents and caregivers. Again, much of this can be addressed through more flexible, inclusive policies.

What do workers need, and what do companies offer?
When we say work should work for everyone, we don't just mean for workers. Companies' needs are important, too. Finding the right balance between meeting parents' desires and helping companies operate efficiently and successfully is key.
This is where flexibility comes in — it's a win-win for everyone involved.
The steps to get there are not as big as they may seem. In fact, it begins with a basic notion: workers want to feel included. Between contingent workforce managers and workers, this is where the largest gap occurred — while 81% of workers said it was important for them to feel included, only 43% of managers said their company makes contingent workers feel this way.
Companies who are DEI-focused are far more likely to promote "personal inclusion," with 65% of managers communicating in a transparent manner, as opposed to just 43% of managers at less-inclusive workplaces.
The research is clear: a simple way to make any worker feel more valued — and, therefore, more productive — is to start by simply including them.



Gender bias
While our report focuses on parents in the contingent workforce, without regard to gender, there were clear differences in the experiences for men and women.
💡 While 72% of men feel that both men and women leaders are equally empathetic to the plight of parents and caregivers, only 50% of women feel this way. Women are far more likely to view other women as understanding of family or caregiver responsibilities.
Flexibility is the future. Of moms with children under 18, 71% are either working or looking for work. We have an enormous responsibility to ensure there is meaningful, attainable, and flexible work available that capitalizes on the unique skills moms possess.
👉 Download the Unlocking the Potential of Parents in the Contingent Workforce: Highlights from a Werklabs + SIA Report here.
Together, we must work towards a future we want to see — and we need the help of companies like yours. Join us in our mission to create a better tomorrow.